Back
What impact does the Global Agriculture B2B Trade Portal Have?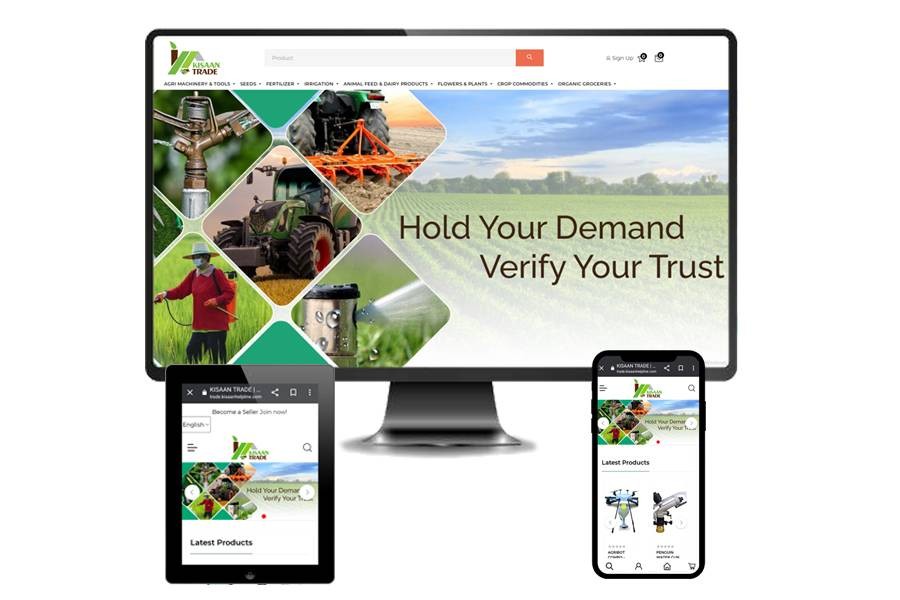 Agritech start-ups are utilising technology, such as B2B marketplaces and digital agriculture platforms, to create market linkage. The traditional supply chain in many different industries experienced a sizable setback during the Covid era. B2B marketplaces have seized this chance by providing high-quality services at competitive prices, consistent delivery dates, and essential standard credit terms. They can deal with the input issues facing Indian agriculture right away.
To strengthen the end-to-end supply chain in agricultural food systems and production, agritech start-ups are developing strong business-to-business (B2B) marketplaces by leveraging cutting-edge and innovative technologies. After suffering a significant setback during the pandemic, the industry is prepared to seize the emerging opportunities by providing advantages like high-quality products at competitive prices and consistent delivery schedules, along with essential standard credit terms.
A typical B2B portal or B2B marketplace is seen as a crucial business entity and a way to cut costs. However, a business model change is necessary to transform these online B2B portals into a revenue-generating source of competitive advantage. On the other hand, many businesses are profiting from managing their B2B portal as a product. By satisfying current consumer demands, they are generating more revenue. The improvement of customer experience is crucial to giving your B2B trade portal a competitive edge. We've covered ways to make your B2B portal or marketplace a competitive advantage in this succinct blog post.
1) Make every step simple for your customers
B2B buyers seek excellence in solutions, productivity, and clarity. These self-service features are a requirement for all businesses rather than a way for brands to differentiate themselves. If these essential components are absent, B2B buyers will continue their search for a self-service platform, even if your B2B portal offers other fantastic features.
Remove any obstacles to procurement as a top priority. Find ways to streamline any process on your B2B marketplace platform that requires customers to confirm their orders or complete a purchase. A system and features that give B2B buyers a sense of control over the purchasing process streamline the ordering and shipping, costing, and many other processes.
2) Help Your Customers Choose Wisely
By giving your customers more power once you've built a strong online B2B portal, you can start to stand out from the competition. Your customers want your platform to be simple to use. They ought to be able to find what they're looking for and feel confident in their decision-making. This effective purchasing system is especially important for B2B buyers, whose only responsibility is to choose the best products and services for their business.
You can ensure that your buyers are making the right choices by providing them with a B2B trade portal that includes sophisticated search features, customised suggestions, customer reviews, and other useful information like product details, clips, instructions, or guidelines.
3) Know your customers and assist them appropriately
You must thoroughly comprehend your customers in order to come up with innovative ways to have a big influence on their purchasing choices. Do you know what their goal is for business? What do they value most? The challenge they encounter? their top concerns in business? Try to gain more knowledge about your customer. This can be accomplished by developing stronger relationships with clients and speaking directly with buyers to fully understand their needs. This will strengthen your business as well as give your B2B portal a competitive edge.
Additionally, by gathering customer information, you can learn a lot about your customers. These details will aid you in getting to know your clients better.
Who are we- Kisaan Trade?
https://www.kisaantrade.com/public/uploads/all/rNhI7wKnuSTvzuDekwW5OPTJ89g70REB2JGIZErQ.jpg

Consumers can purchase agri-machinery, -tools, and other agricultural inputs that are widely used in Indian farming culture on the B2B agricultural e-commerce marketplace Kisaan Trade in India.
What services do we offer?
1) Agri Tools and Machinery - Mechanizing agricultural work can be very beneficial in achieving this objective. Modern farming benefits you by generating higher income if traditional farming techniques result in crops that are highly nutritious. Additionally, the farming sector is growing and innovating rapidly every day.
https://www.kisaantrade.com/public/uploads/all/rNhI7wKnuSTvzuDekwW5OPTJ89g70REB2JGIZErQ.jpg

• Agriculture Sprayer
• Agriculture Tools
• Agriculture Equipment
• Harvesting Machinery
• Drone Sprayer
2) Seeds - The product of sexual reproduction in plants, seeds are mature, fertilised ovules. Even though not all plants produce seeds, those that do frequently rely on them to reproduce over the course of several seasons and years. Biologically and economically, seeds are extremely important. They are rich in protein, starch, and oil reserves that support a plant's early growth and development.
Many cereals and legumes are major food sources for a significant portion of the world's population due to these reserves.
https://www.kisaantrade.com/public/uploads/all/Bo2kR01LC8q0JaY7iQY5YIbNsEUvk9Wg9xfhOj0N.jpg
• Grass Seeds
• Plant Seeds
• Chia Seeds
• Flax seeds
• Flower seeds
• Fruit Seeds
• Quinoa Seeds
• Herbal Seeds
• Vegetable Seeds
3) Fertilizers - Artificial or natural fertilisers are the ingredients that promote the growth and productivity of plants. Fertilizers aid the soil in becoming more fertile, which fosters growth. Manures have likely been used as compost for as long as agriculture has existed. Plants become resistant to damaging plant pathogens, pests, and weeds with the aid of fertilisers. The value of the harvest is increased when plant diseases are eradicated.
https://www.kisaantrade.com/public/uploads/all/AeML6sGFEoNUZZnOifr0sWrIPB0HOnnXCeeNTjpl.jpg

• Pesticides
• City compost
• Formulation
• Bio Fertilizer
• Fertilizer
• Vermi compost
• Organic manure
4) Irrigation - Irrigation is the process of artificially applying water to crops to meet their water needs. Crops may also receive nutrients through irrigation. Water for irrigation can be obtained from wells, ponds, lakes, canals, tube-wells, and even dams. Moisture provided by irrigation is essential for germination, growth, and other related processes.
https://www.kisaantrade.com/public/uploads/all/BiIV3KXG4ThF78yZEsTH9y6mwfsolJNgC0HdRNuU.jpg

• Dripper
• Filter
• Irrigation safety Accessories
• Valves
• Rainguns Sprinkler
• Sprinklers & Accessories
• Landscaping Irrigation
• Venturi Injector
• Drip Fittings Accessories
• Micro Sprinkler
• Fogger
• Plain Lateral
5) Animal Feed and Dairy Products - Livestock animals are susceptible to hundreds of nutrient-related diseases. The majority of these illnesses are brought on by either mineral and vitamin deficiency or malnutrition. Animals' growth, development, and production are negatively impacted by deficiencies and malnutrition; in severe cases, these conditions can even result in fatalities.
Modern farming practises have actually made nutrition-related diseases a bigger issue. Since the majority of animals consume concentrates created to increase yield, they may be deficient in certain essential minerals and vitamins.
One of the most popular and accessible sources of probiotics is fermented dairy products, such as kefir, cultured drinks, and yoghurt. These products are the perfect delivery system for probiotics because milk's composition—which includes carbohydrate, protein, and fat—acts as a protective matrix to aid in probiotic survival throughout the digestive system and into the gut, including during adverse stomach conditions.
https://www.kisaantrade.com/public/uploads/all/mqDNSLTpbKtIqEPUX41Ji9YjaBFAqsypX66oeOHI.jpg

• Cattle feed
• Poultry feed
• Goat feed
6) Flowers and Plants - Flowers and plants immediately affect our mood because their vibrant, happy presence can make us feel happy. For this reason, people often send their loved ones flowers when they are ill. Yes, it is believed by scientists that having flowers and plants around hospitals can help patients recover naturally by lowering their stress and anxiety levels.
https://www.kisaantrade.com/public/uploads/all/VSaaDX36t2wXYYIHU2dRa0dDeN5efWIdV0wJ2wed.jpg

• Fruit Plants
• Nursery
• Flowers
7) Crop Commodities - Farm-raised or ranch-raised livestock and staple crops are referred to as agricultural commodities. Globally, most agricultural products like grains, livestock, and dairy serve as a source of food for both humans and other animals.
Some agricultural products, however, are only used in the industrial sector. Lumber from trees is used in the construction and furniture industries, and latex from the rubber tree is used in many industries by manufacturers. Clothing is made of wool from sheep, and lanolin is used in skin- and hair-care products.
https://www.kisaantrade.com/public/uploads/all/F70zwdj3YdOIr1a4qlHzEwgkzNffFblA8NgZH9lT.jpg

• Grains
• Aromatic crops
• Medicinal crops
• Herbal crop
• Spices crops
• Pulses
• Vegetable crops
• Tea & Coffee
• Oil seeds
• Sugarcane
8) Organic Groceries - Organic foods are those that have not been grown with the use of pesticides or chemical fertilisers and are chemical-free. Contrary to conventional foods, no chemicals are used during the production of organic fruits and vegetables to make them bigger or ripen them earlier than they should. However, due to their similar appearance in terms of colour and shape, it can be challenging to tell conventional foods from organic foods. We'll explain how to recognise organic food in this blog post today, along with the advantages of eating organic for seniors' health.
https://www.kisaantrade.com/public/uploads/all/kzkrULtRqMqFEM0E9SYUfCjCacKeaa28LMOXJeDe.jpg

• Organic Rice
• Organic Cereals
• Herbal Products
• Organic Pulses
• Organic Spices
• Organic Nuts
• Organic Honey
• Organic Tea & Coffee
• Organic Cosmetics
• Organic Pet Products
Bottom Line
Incredible B2B agriculture business directory in India is Kisaan Trade. Here, we present Agricultural Business India suppliers and manufacturers who are 100 percent verified. We are doing everything we can to help you find reputable dealers and distributors to help you grow your business. To help you expand your business, we will give you access to producers of seeds, pesticides, fertilisers, bio products, agricultural machinery, nurseries, etc. The agriculture directory company Kisaan Trade promotes its advertisers all over the world.
We constantly look for ways to expand their advertisers' businesses. India is an agricultural country, and a sizable portion of its population depends on farming and agricultural industries.