Back
Unlocking the potential of agriculture B2B trade portals for new startups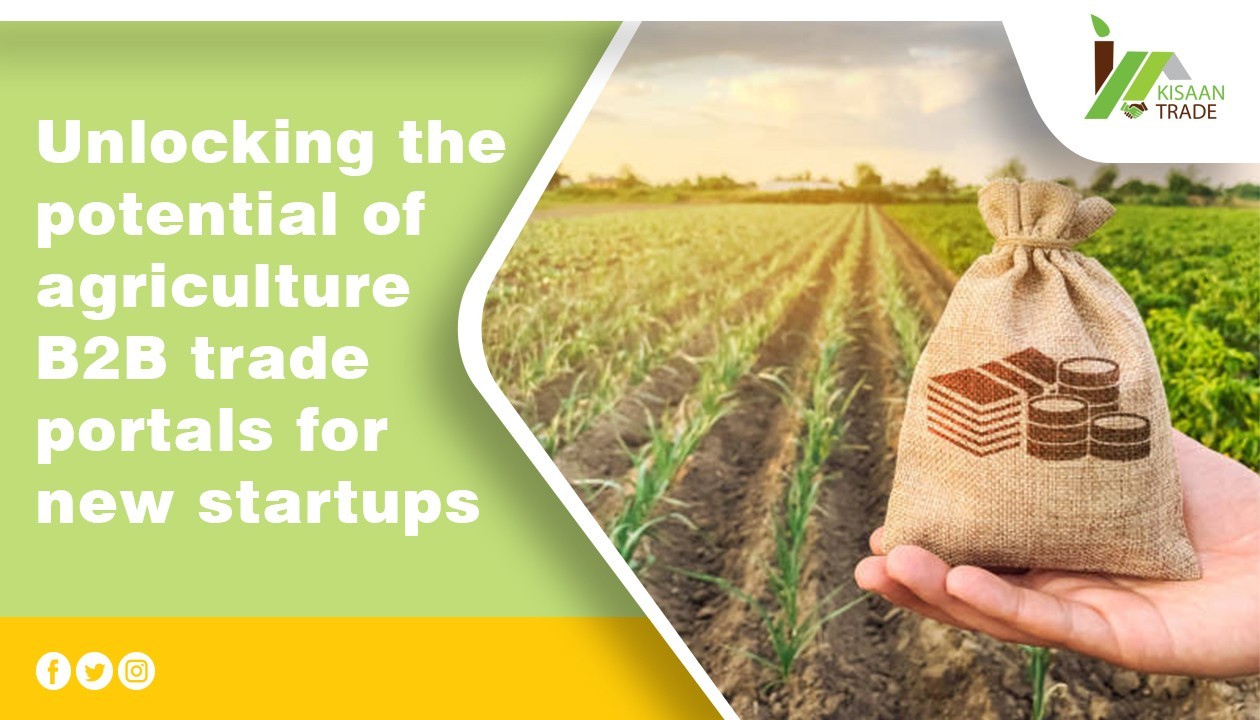 The majority of farmers in India have long experienced losses in the agricultural sector. Low land ownership, a lack of modern technology, and high-interest loans from the unregulated lending market are some of the causes of this situation. Agritech startups are working to address all of these problems by utilising cutting-edge loan underwriting techniques and technology. Opportunities for agritech startups abound as a result of the widespread use of smartphones and the internet, changes in policy, and growing investor interest.

India's agritech startups have exploded onto the scene in the last five years, creating farm-to-fork brands, B2B agri marketplaces, rural fintech businesses, farmer platforms, and more.
Opportunities for Business and Creative Solutions
In India, the agritech industry has opened up a number of new market opportunities, particularly in terms of creating and improving market connections. These innovations include bringing farmer products directly to consumers, digitising agriculture, enhancing farmers' access to real-time information, increasing transparency throughout the value chain, giving farmers better implements to increase yields, and giving farmers microfinancing options to manage risks. With the overarching objective of increasing farmer share in crop sales profits, all of these solutions show that improving the supply chain is a key focus area for agritech start-ups.
Government Programmes and Projects
The development of the agritech industry has been accelerated by the government. The National Centre for Management and Agricultural Extension (MANAGE) has been established in Hyderabad. A food and agribusiness accelerator was also organised by the Department of Science and Technology, GOI, in collaboration with a-IDEA, TBI, and NAARM. This programmer's main objective was to hasten the development of new agribusinesses through mentoring, industry connections, and advice on investor pitches.
Recently, the Pradhan Mantri Krishi Sinchayee Yojana (PMKSY) was also unveiled and put into action, with a major emphasis on water conservation and expanding the country's irrigation coverage. 7.64 billion US dollars worth of funding has been set aside under this programme for investments in source creation, distribution, management, field application, and extension end-to-end solutions.
Agriculture B2B trade portals for new startups
1) Market Research: Access to real-time market data is one of the main advantages of using agriculture B2B trade portals for market research. These portals frequently offer current details on costs, supply and demand, and market trends, which can assist startups in making educated decisions about the products to sell and the markets to target.
Startups can use B2B trade portals to investigate both the level of demand and the prices at which buyers are willing to pay for particular agricultural products. Startups can use this information to determine which markets are most promising and which products are most profitable to sell.
B2B trade portals may provide tools for competitor analysis in addition to market data, enabling startups to see what other companies are doing.
2) Access to Buyers and Suppliers: A wider network of buyers and suppliers may be available to new startups thanks to agriculture B2B trade portals. These portals can link new businesses with global suppliers and customers, enabling them to grow their clientele and find high-quality agricultural products.
B2B trade portals can be a great way for startups selling agricultural products to find new customers. Startups can use the search and filtering features of these portals to find prospective customers because they frequently have large networks of registered buyers who are looking for particular products. For startups that are just getting started and may not yet have established relationships with industry buyers, this can be especially helpful.
3) Reduced Marketing Costs: Additionally, using agriculture B2B trade portals can assist new businesses in lowering their marketing expenses. These portals give companies a stage on which to present their goods and services to a sizable audience of potential customers and suppliers. Startups can target particular audiences and highlight their products to those who are most likely to be interested by using the search and filtering features of the portal.
Using B2B trade portals can be significantly more cost-effective than using more conventional marketing strategies like advertising or direct mail. These portals frequently provide low-cost or even free registration for new businesses, enabling startups to expose their goods to potential customers without having to spend a lot of money on marketing.
4) Online Transactions: B2B trade portals for agriculture can make it simple for new businesses to conduct transactions online. These portals frequently offer businesses safe and effective platforms to conduct transactions, including the buying and selling of agricultural goods and services. Startups can streamline their transaction processes and spend less time and money on them by utilising these portals.
The fact that B2B trade portals offer a level of security that can help shield businesses from fraudulent activity is one of the advantages of using them for online transactions. To ensure that only parties with permission can access and use the platform, these portals frequently have stringent verification and authentication procedures.
5) Logistics Support: Agriculture B2B trade portals can help new businesses with their logistics needs. Through these portals, companies can connect with logistics and shipping service providers, streamlining their supply chain and enhancing their overall operations.
Startups can connect with logistics providers through B2B trade portals and gain access to a variety of services, such as shipping, warehousing, and inventory control. These services can aid companies in more efficiently managing their supply chains and guaranteeing that their goods are delivered to clients on schedule and in good condition.
Additionally, B2B trade portals can provide businesses with the tools and resources they need to manage their logistics more effectively.
Business models change over time, sometimes as a result of market changes and other times as a result of technological advancements, which leads to the emergence of exciting new trends. Our company, Kisaan Trade, keeps a close eye on the startup ecosystem around the globe. As a result, we have discovered a number of intriguing new themes that are gaining popularity, one of which is B2B farm produce e-commerce.