Back
The most important farm products B2B ecommerce sites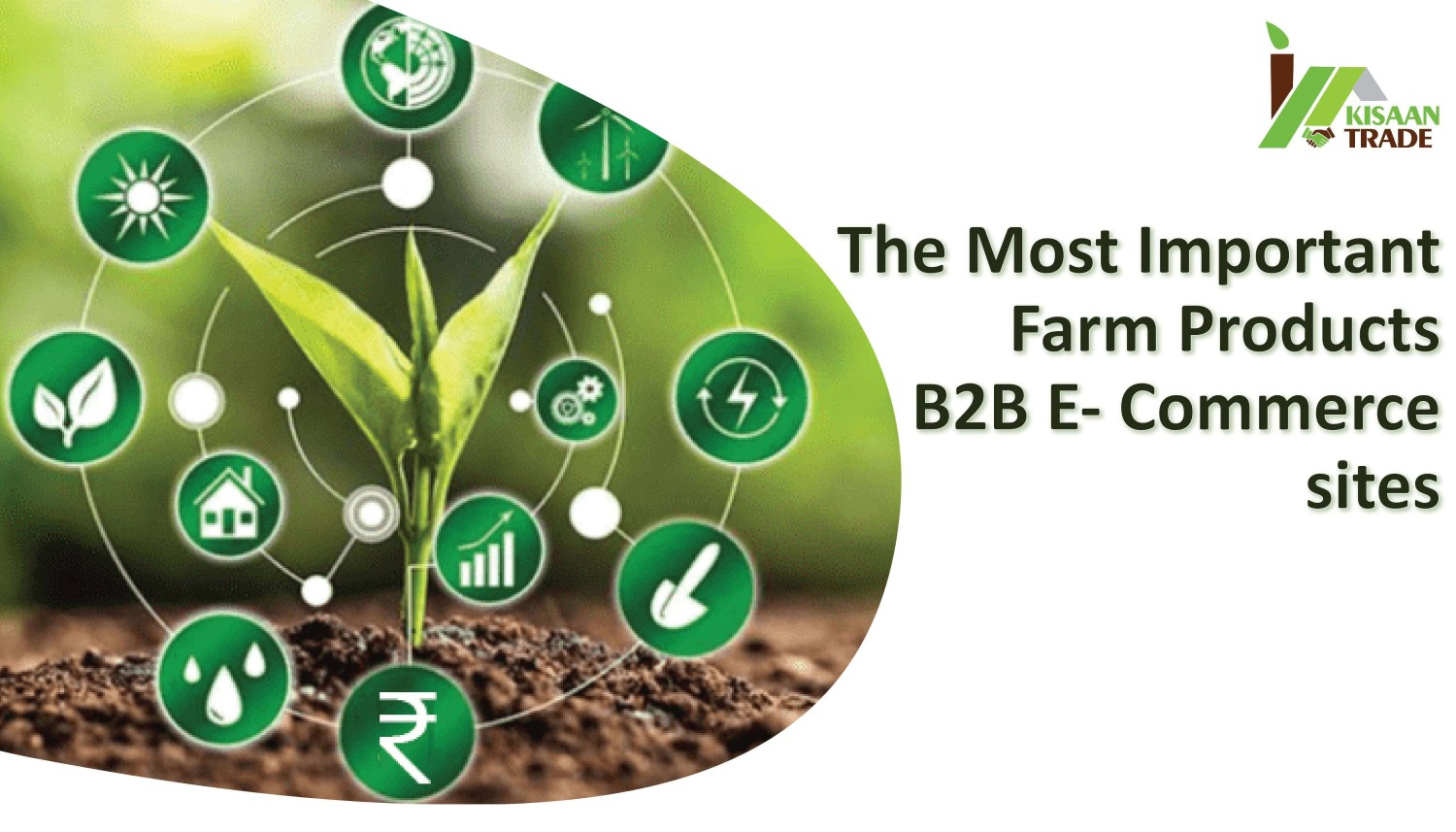 Technology is being used by agritech start-ups to create market connections, such as
B2B marketplaces and digital agriculture platforms
. The traditional supply chain, which spans many industries, has suffered a serious setback in recent years. B2B marketplaces have seized this chance by providing high-quality goods at competitive prices, consistent delivery dates, and essential standard credit terms. They are able to deal with the input issues facing Indian agriculture right away.
What has changed at farmers' markets during COVID-19?
In order to determine how the pandemic affected this typically prosperous period, the Sustainable Food Center thoroughly examined the top selling months (March through June) for vendors at the neighbourhood farmers markets. To determine the difference between March–June 2020 and March–June 2019, they examined sales figures and the number of vendors selling at various markets.
As you can see, there are now significantly fewer vendors selling at farmers' markets. Despite fewer vendors, sales figures in 2020 were almost identical to those in 2019. Every vendor saw an increase in their usual sales when there were fewer competitors, but this also depends on the market, the type of vendor, and the region.
B2B platform for agriculture: how are online marketplaces used to buy and sell agricultural goods?
Even though the majority of our transactions and daily activities are already conducted online, the pandemic was probably the first time we truly felt the impact of digital technology. The key players in today's world that drive the economy forward even when everything else is shut down are online platforms.
It is difficult to identify an economic sector that has not been impacted by online platforms. They provide a number of business benefits, such as a means of buying and selling goods and services, simpler access to a wealth of information, and new opportunities and choices. B2B platforms for agriculture are available for businesses of all sizes, types, and industries, from start-ups to household names. The food industry is also included in that.
Most recent B2B technology advancements
Software for agricultural fulfillment makes it possible to produce agricultural goods. Farmers and traders use this software to market their goods on a
B2B marketplace platform
. Because it aids in providing both parties involved in the transaction with transparency, it has grown to be a significant component of India's agriculture industry.
Agricultural product producers, merchants, and consumers all use agri-fulfillment software. Manufacturers, sellers, and buyers can connect with one another using this software, which facilitates smoother, quicker, and more transparent business transactions. Software for agri-fulfillment can be used for any kind of product, including processed foods like spices and pulses as well as fresh produce.
Contribution of Kisaan Trade to the Agricultural Sector
Kisaan Trade is an online platform that links all of India's agricultural entrepreneurs on one platform. Our sole objective is to give agricultural input and outcome sellers the best possible platform where a potential customer is only a click away.
Fostering trade between agricultural businesses or businesses that depend on agriculture is the core goal of agricultural marketing through
agricultural business-to-business marketplaces
. For their operations, commercial agriculture or farming frequently needs to quickly locate suppliers of equipment, machinery, and other agricultural or farm supplies. The agriculturalists or farmers then provide the agricultural products or farm products to businesses that need them for production or further sale after using these supplies.
Kisaan trade features for sellers include:
Easy and quick registration for vendors: Reduce client waiting time by streamlining the onboarding procedure.
Efficient management of products: Farmers should have no trouble adding or removing any products they own, stating prices, and providing the necessary information. Order processing that is comfortable and has notifications. Vendors must be informed of any changes to the delivery process, as well as see exactly what was ordered, how much it cost, and the delivery details.
Tools for communication to solve any issues quickly, sellers and buyers must speak with one another.
Rating or review process: Buyers are always seeking assurance that they can trust the seller. Farmers can gain the trust of potential customers by allowing feedback from previous customers.
Product promotion: For farmers and suppliers to sell more, the buy-and-sell food marketplace should provide tools to promote their products, such as featured products or discount campaigns.
Kisaan Trade features for consumers include:
Customer login and registration: Additionally, customers should have no trouble using the e-commerce platform.
Appealing UI/UX: The design's aesthetic appeal and usability could be the deciding factors. Make a platform for your clients so they will want to use it and keep using it.
Location of your choice: Customers can shop locally from farmers in their area to ensure that their food is always fresh.
Convenient filter-based search: Product search is crucial to the development of your buy-and-sell marketplace. Customers should have no trouble sorting through the various food categories to find exactly what they're looking for.
Simple checkout: It must be easy to add items to carts and then continue to pay for them. Payments made using a variety of credit cards should be accepted, as should information on delivery.
Deliveries available: Users must schedule the delivery date and time. They might have the option of choosing delivery to their doors or picking up at a nearby farm or store. People are more concerned about safety during a pandemic, so be sure to offer them the contactless delivery option.
Order tracking and notifications: Order tracking for customers must be accurate and transparent. To make the process less complicated but more satisfying for your clients, add notifications.
Conclusion
The food supply chain is a complicated web made up of producers, consumers, businesses that process and store food, businesses that transport and market food, etc. The buy-and-sell app's functionality must be so comprehensive and useful as to offer the necessary operations for these intricate interactions.
It may seem like a difficult and time-consuming task to create a two-sided food marketplace with the needs of your end users in mind, but not for skilled developers. Because of
Kisaan Trade
, you have a one-of-a-kind opportunity to take advantage of these incredible features and grow your business. For any questions, please get in touch with us.