Back
The most efficient B2B agricultural portal: Kisaan Trade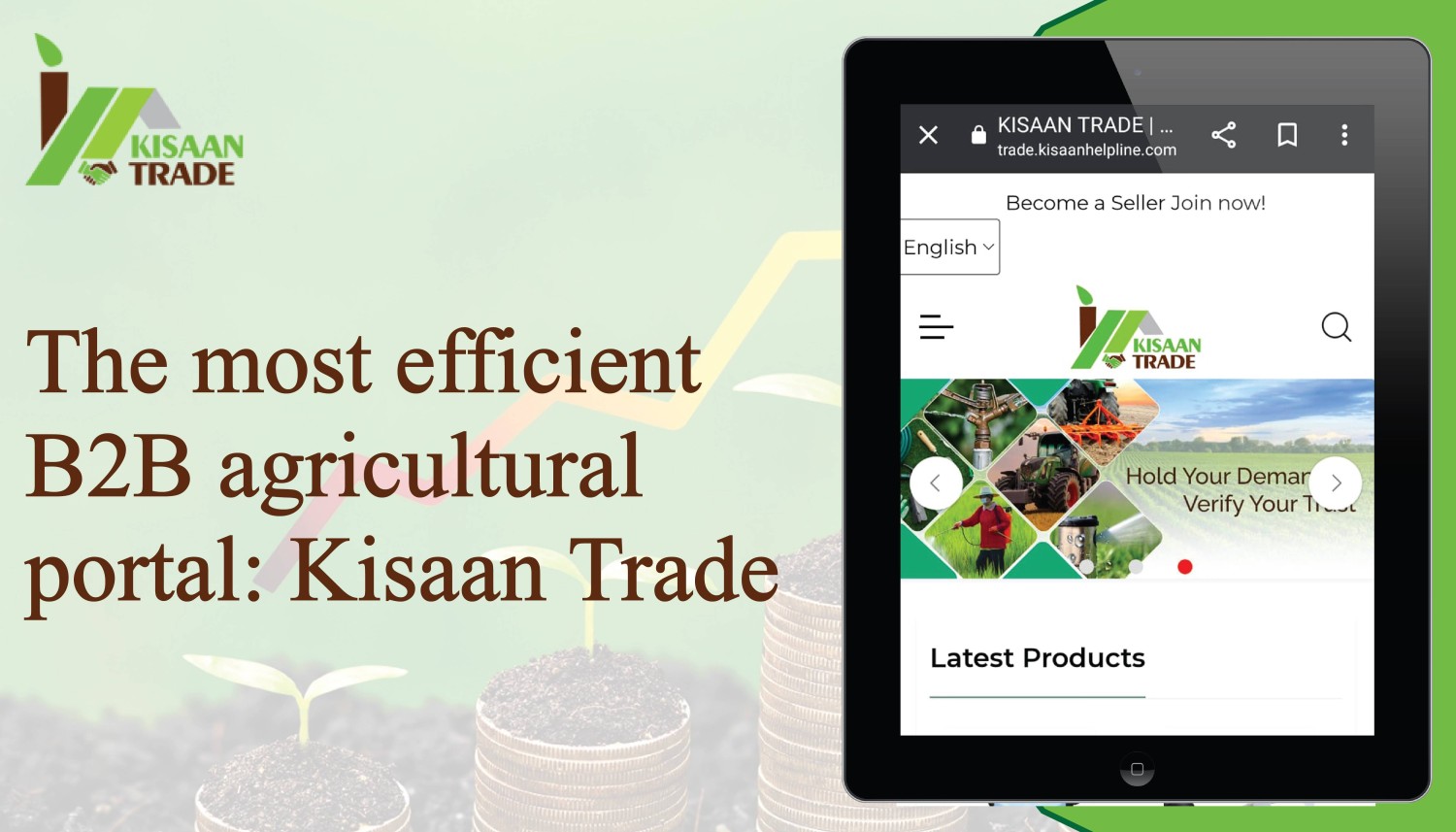 Consumers can purchase agri-machinery, tools, and other agricultural inputs that are widely used in Indian farming culture on the B2B agricultural e-commerce marketplace Kisaan Trade in India.
Electronic commerce (e-commerce), which is "business-to-business" (B2B), involves the exchange of goods, services, or information between businesses rather than between businesses and customers (B2C). A business-to-business transaction takes place between two businesses, such as online retailers and wholesalers. Each organisation typically benefits in some way and has comparable negotiating power in most B2B business models.
What issue are we focusing on?
Kisaan Trade strives to improve market linkages so that it can deliver services more effectively. Market linkage aims to connect farmers and producers more directly with markets. It involves more direct interaction between aggregators and upstream markets as well. And connecting the final consumer all the way back to the point of production is important to us.
An economy's weak business connections lead to inefficiencies, missed opportunities, and frequently an excessive reliance on imported goods and services. This topic guide examines programmes to strengthen these connections and forge long-term business relationships with local firms, particularly SMEs, as well as with multinational corporations.
Kisaan Trade features that make it easier for customers to navigate them are:
1. Access to that requires a password
We choose to restrict access to our pricing strategies to authorised customers only by implementing a password-protected user area.
2. A sophisticated and advanced search
Instead of relying on out-of-the-box functionality, we invested in a specialised search facility that can increase the visibility of our products on our website.
3. Comprehensive product details
We compile a compelling collection of product information, including dimensions, MPNs, and spec sheets, all of which can improve customer conversion.
4. Detailed product pictures
Instead of relying on CG or stock imagery, we provide a high level of detail in our product imagery for products that may deal with intricate components.
5. Tracking orders
We make sure that an online order tracker that displays every stage of the order process and its current progress can be incredibly helpful to all stakeholders at our customer's company, not just the person named on the order.
6. Reliable, safe payment gateways
Our customers can check out with a solution that works for them because we have flexible payment options for credit, debit, and even BACS payments.
7. Discounts for large purchases
It can be a good idea to offer discounts based on the quantity ordered because B2B customers frequently order in bulk rather than for single items.
8. Convenient checkout
We have given special consideration to guest checkout, flexible payment options, the ability to retrieve address information, and even the ability to repeat an order that has already been placed.
9. Existing stock levels
Our product page's real-time inventory updates keep us informed of our current situation and reduce the chance that we will oversell stock and let down potential customers.
10. Quick order or reorder capabilities
We make repeat purchases simple for our customers and give them the option to easily reorder previous transactions from within their account area for extra brownie points.
What are the definitions of "agriculture input" and "agriculture output"?
Input: Farmers, especially smallholder farmers, must assist their harvest with agricultural inputs in order to maximise yield. Agro-inputs are any outside materials inserted into the ground to increase a farmer's yield in the future. They could be anything from high-tech tractors to premium seeds. They are, in a nutshell, any resource you employ to improve the yield of your crop.
Output: The output of agricultural activity includes output sold (including intra-unit consumption of livestock feed products), stock changes, output for own final use (including own final consumption and own-account gross fixed capital formation), output produced for further processing by agricultural producers, and output for sale (including trade in agricultural goods and services between agricultural units). The main product categories of agricultural output are animal output and crop output. Agricultural output is comprised of the output of agricultural products as well as the goods and services produced in secondary non-agricultural activities.
Kisaan Trade provides categories of agricultural inputs and outputs:
1) Agricultural machinery and tools: When agricultural machinery is used in farming activities, the amount of human labour is minimised.
The use of chemical pesticides, better seed varieties, and improved farming machinery have all contributed to increased production. The productivity of workers has increased as a result of the use of machines. Utilizing labour-saving agricultural technology, such as rotavators, power tillers, and combine harvesters, among others, improves farmers' well-being.
Agriculture Sprayer
Agriculture Tools
Agriculture Equipment
Harvesting Machinery
Drone Sprayer
2) Seeds: From corn, cotton, and canola to wheat, barley, and soybeans to vegetables, flax, and flowers, seeds are used to produce the foods we eat, the fibres in our clothing, and the majority of the products we use every day. Seed is essential to agriculture because it serves as a delivery system for new plant technologies and cultivars. Growing quality crops requires using quality seed.
The "Four F's"—food, feed, fibre, and fuel—that contemporary consumers require must all be met by products that are grown from seeds. And the demand is still rising.
Grass Seeds
Plant Seeds
Chia Seeds
Flax seeds
Flower seeds
Fruit Seeds
Quinoa Seeds
Herbal Seeds
Vegetable Seeds
3) Fertilizers: Artificial or natural fertilisers are the ingredients that promote the growth and productivity of plants. Fertilizers aid the soil in becoming more fertile, which fosters growth. Manures have likely been used as compost for as long as agriculture has existed. Plants become resistant to damaging plant pathogens, pests, and weeds with the aid of fertilisers. The value of the harvest is increased when plant diseases are eradicated.
Modern synthetic fertilisers contain at least one of the three elements—nitrogen, phosphorus, and potassium—that are most important for plant sustenance. The elements calcium, magnesium, and sulphur are of secondary importance.
Pesticide
City compost
Formulation
Bio Fertilizer
Fertilizer
Vermi compost
Organic manure
4) Irrigation: The process of irrigation involves supplying a controlled amount of water using manufactured tools like pipes, ditches, sprinklers, etc. The main goals of irrigation systems are to support agricultural crop growth, maintain landscapes, lessen the impact of insufficient rainfall, etc. As a result, irrigation systems are very important.
1. Because of irregular, insufficient, or unpredictable rain, agriculture is frequently severely hampered. Agriculture can continue unhindered with the use of effective irrigation systems.
2. Irrigated land is more productive than unirrigated land. Irrigated areas consistently produce greater crop yields than rainfed areas in the developing world.
3. Because moisture is required for seed germination, seeds cannot grow in dry soil.
Dripper
Filter
Irrigation Safety Accessories
Valves
Rainguns Sprinkler
Sprinklers & Accessories
Landscaping Irrigation
Venturi Injector
Drip Fittings Accessories
Micro Sprinkler
Fogger
Plain Lateral
5) Animal Feed and Dairy Products: The milk unions' and federations' cattle feed is a well-balanced source of the vital nutrients needed for body upkeep, development, and milk production. It is made with high-quality grains, bran, molasses, salt, minerals, and vitamins. It also contains oil cakes and meals. It is significantly less expensive and very appealing to animals.
There is mounting evidence that indicates the importance of gut health for overall health and wellbeing. Probiotics are live bacterial cultures that can survive in the gastrointestinal tract and are present in some fermented foods. They have health benefits and may help to maintain the natural balance of the gut microbiota when consumed in sufficient amounts.
Fermented dairy products, such as kefir, cultured drinks, and yoghurt, are among the most popular and widely available sources of probiotics.The composition of milk, which consists of carbohydrates, protein, and fat, acts as a protective matrix to help probiotics survive from the digestive system through to the gut, including helping them survive adverse conditions. This makes these products an ideal delivery system for probiotics.
Cattle feed
Poultry feed
Goat feed
6) Flowers and Plants: What function do flowers serve in our lives? In addition to providing gardens and environments with colour, texture, and biodiversity, flowers serve as a vital structural component for plants and a vital source of nutrition for numerous other organisms. Plants need to produce seeds, the reproductive structures that enable seeds to endure for generations, and flowers are a key tool for luring pollen substances to plants. Flowers can successfully transmit genetic material to the following generation while safeguarding and growing seeds. Angiosperms, a group of flowering plants, have evolved to come in a variety of sizes, shapes, and colours.
Fruit Plants
Nursery
Flowers
7) Crop commodities: in the agrarian nation of India, more than 60% of people rely on agriculture for a living. Although living in urban areas may prevent us from fully appreciating the value of agriculture, it is well known that a large portion of our country's population relies on it as their primary source of income. India's population is increasing more quickly than the country can produce wheat and rice. It is estimated that a significant amount of investment will be needed to develop the infrastructure for marketing, storage, and cold storage.
Numerous crops, from food to medicine, are grown in the nation. These goods are used for a variety of things, including human consumption, industrial applications, animal feed, etc.
Grains
Aromatic crops
Medicinal crops
Herbal crop
Spices crops
Pulses
Vegetable crops
Coffee and tea
Oil seeds
Sugarcane
8) Organic Groceries: Certain antioxidants and flavonoids, which have antioxidant properties, may be present in higher concentrations in organic produce. A poisonous substance called cadmium is naturally present in soils and is taken up by plants. Studies have shown that organic grains have significantly lower cadmium levels than crops grown conventionally, but not for fruits and vegetables. Produce grown organically has lower levels of pesticide residue than produce grown conventionally (traditionally).
Organic Rice
Organic Cereals
Herbal Products
Organic Pulses
Organic Spices
Organic Nuts
Organic Honey
Organic Tea and Coffee
Organic Cosmetics
organic pet products
Bottom Line
The chance to use marketplaces within a particular industry increases as technology develops and e-commerce expands. Resources are plentiful in the agriculture B2B market, specifically in the agricultural sector. Farmers can purchase and sell raw materials and machine spare parts through these outlets to meet their farming needs. permits them to sell their crops to distributors and wholesalers as well. As a result, incorporating e-commerce into business platforms benefits the agricultural industry, whether the farmer or distributor.
Kisaan Trade is doing its part by educating farmers on the newest technologies and how to use them for a better yield and lifestyle. For any questions, please get in touch with us.