Back
The Complete Guide to the Best Agriculture Business Portal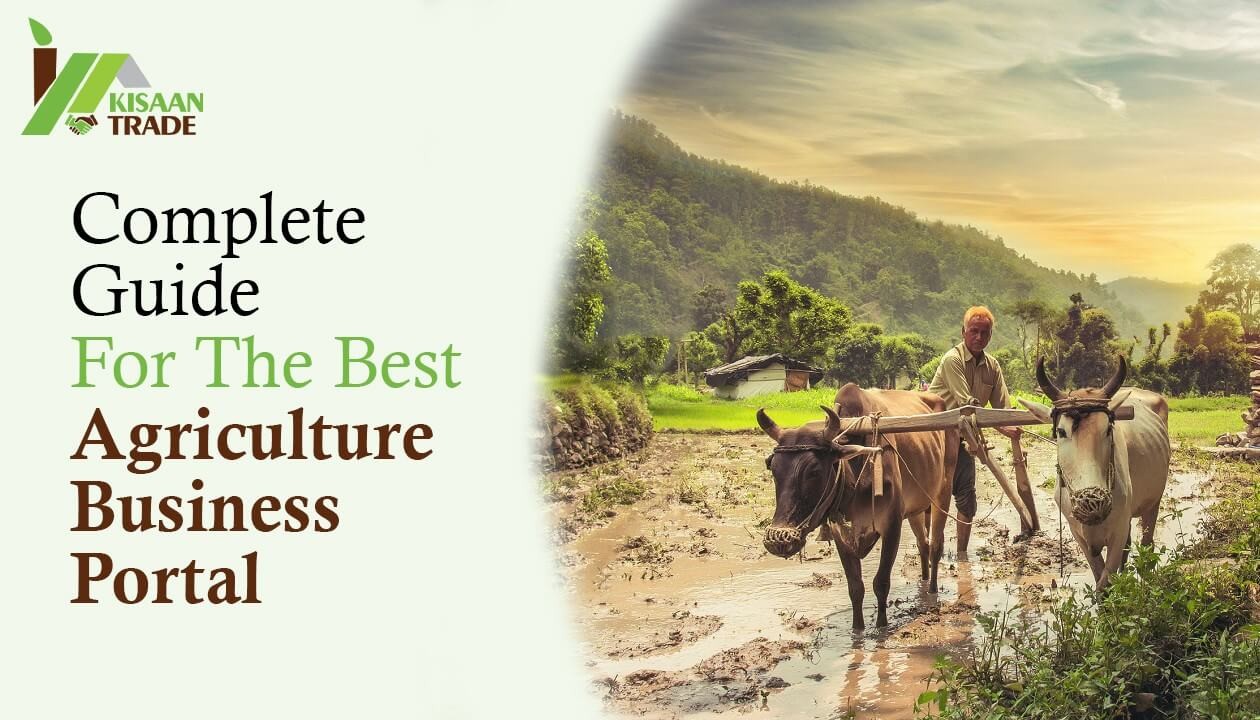 What is business-to-business, or B2B?
Electronic commerce (e-commerce), which is "business-to-business" (B2B), involves the exchange of goods, services, or information between businesses rather than between businesses and customers (B2C). A business-to-business transaction takes place between two businesses, such as online retailers and wholesalers. Each organisation typically benefits in some way and has comparable negotiating power in most B2B business models.
According to Grand View Research, global B2B e-commerce is anticipated to reach $20.9 trillion by 2027, representing a CAGR (compound annual growth rate) of 17.5% over the forecast period (2020–2027).
The importance of B2B business
Transactions between businesses are referred to as "B2B" (business-to-business), as opposed to transactions between businesses and consumers (B2C). B2B is crucial because it enables companies to build relationships with one another and form alliances that can lead to growth and expansion opportunities. Compared to B2C transactions, B2B transactions frequently involve higher dollar amounts and greater quantities of goods and services. B2B businesses can also take advantage of economies of scale by making bulk purchases of products and services at discounted rates. B2B companies contribute significantly to the operation of the global economy and aid in the expansion and improvement of other companies.
B2B Marketplace for Agriculture
A platform that brings together agricultural producers, suppliers, and buyers is known as a B2B marketplace for agriculture. Direct sales of agricultural products to companies like wholesalers, distributors, and retailers are made possible by this. Farmers, growers, and other agricultural producers can benefit from this. Additionally, it gives consumers a platform to buy agricultural products at wholesale rates as opposed to retail rates. As a platform for farmers to access global markets, B2B marketplaces for agriculture can assist in linking small producers with larger buyers. Additionally, these marketplaces may offer logistical, payment, and financing services. B2B marketplaces for agriculture can help both producers and buyers save money and become more efficient while also promoting the expansion and development of the sector.
The internet offers countless opportunities. Numerous B2B marketplaces for agriculture serve as trading platforms where buyers and sellers can connect. Without the B2B marketplace, there would be no way for buyers and sellers from different parts of the world to connect with each other. The connections provide agriculture businesses with countless opportunities to connect with new prospects, clients, and suppliers.
The opportunity to use marketplaces within a particular industry to the advantage of your business grows and evolves along with technology and the capacity to connect with people and businesses.
What is the goal of Kisaan Trade?
All of India's agricultural entrepreneurs and business owners are linked together on Kisaan Trade, an online platform. Our sole objective is to give agricultural input and outcome sellers the best possible platform where a potential customer is only a click away!
Kisaan Trade has the following characteristics:
1) Product listing: A thorough list of agricultural goods, including livestock, farm produce, and crops, along with specifics like price, quantity, and quality.
2) Search and Filtering: Buyers can quickly and easily find the products they require using the search bar and the filtering options.
3) Buyer and Seller Profiles: Detailed profiles of buyers and sellers that include information on their companies, goods, and contact information.
4) Order Management: An ordering and tracking system that enables users to place and confirm orders, view order histories, and monitor shipping progress.
5) Tools for communication: Buyers and sellers can communicate and discuss transactional details through a secure messaging system.
6) Integration of payment gateways: Facilitating online transactions with safe payment methods like credit cards and e-wallets
7) Logistics management: Real-time tracking of shipments and delivery status is part of a system for managing and monitoring logistics.
8) Analytics and reports: Analytics and reports are tools that help sellers and buyers make data-driven decisions by providing reports and insights on sales, inventory, and other business metrics.
9) Multilingual support: Platforms that support multiple languages make it possible for buyers and sellers to communicate with each other easily and facilitate international trade.
10) Mobile-Friendly Interface: A user-friendly mobile interface that enables access to the platform and mobile commerce.
Why pick us?
1) Ordinary Leads
Your company and your products will always be available to customers on our website, which will serve as an online showroom.
2) Product promotion
Each product will be displayed on KisaanTrade.com to ensure that it receives adequate exposure and attracts buyers, particularly in the Pan India and Asia regions where we have a strong customer base.
3) Advertising
With us, you won't need to worry about marketing your company because KisaanTrade.com will advertise your store both online and offline, which will help it grow.
Benefits of joining our team
1) Enhanced Efficiency: A B2B portal for agriculture can make the buying and selling process more effective by bringing buyers and sellers together in one place. Both parties can save time and money by doing this.
2) Access to a Wider Market: Small and medium-sized farmers can use agricultural B2B portals as a platform to reach a wider market, including foreign buyers.
3) Enhanced Transparency: Agricultural B2B portals can offer detailed product information, such as price, quality, and quantity, which can aid in enhancing transparency and lowering the risk of fraud.
4) Reduced Costs: Agricultural B2B portals can aid in cost reduction for both parties by removing middlemen and enabling direct transactions between buyers and sellers.
5) Better Pricing: Agricultural B2B portals can assist in ensuring more competitive pricing by offering a platform for direct negotiation between buyers and sellers.
6) Management of logistics: To guarantee efficient and prompt delivery of goods, a system for managing and tracking logistics, including real-time tracking of shipments and delivery status, may be used.
7) Data and analytics: Platforms can offer analyses and reports on sales, inventory, and other financial indicators that can assist farmers and other businesses in making data-driven decisions.
8) Multilingual support: Platforms that support multiple languages make it possible for buyers and sellers to communicate with each other easily and facilitate international trade.
Agricultural Business Directory of India: Kisaan Trade
An incredible B2B agriculture business directory in India is Kisaan Trade. Here, we present Agricultural Business India suppliers and manufacturers who are 100 percent verified. We are doing everything we can to help you find reputable dealers and distributors to help you grow your business. To help you expand your business, we will give you access to producers of seeds, pesticides, fertilisers, bioproducts, agricultural machinery, nurseries, etc. Our company operates an agriculture directory and promotes its advertisers all over the world.
We are constantly on the lookout for commercial opportunities for their advertisers. India is an agricultural country, and a sizable portion of its population depends on farming and agricultural industries.