Back
Revolutionising the Agricultural Industry with Global B2B Trade Portals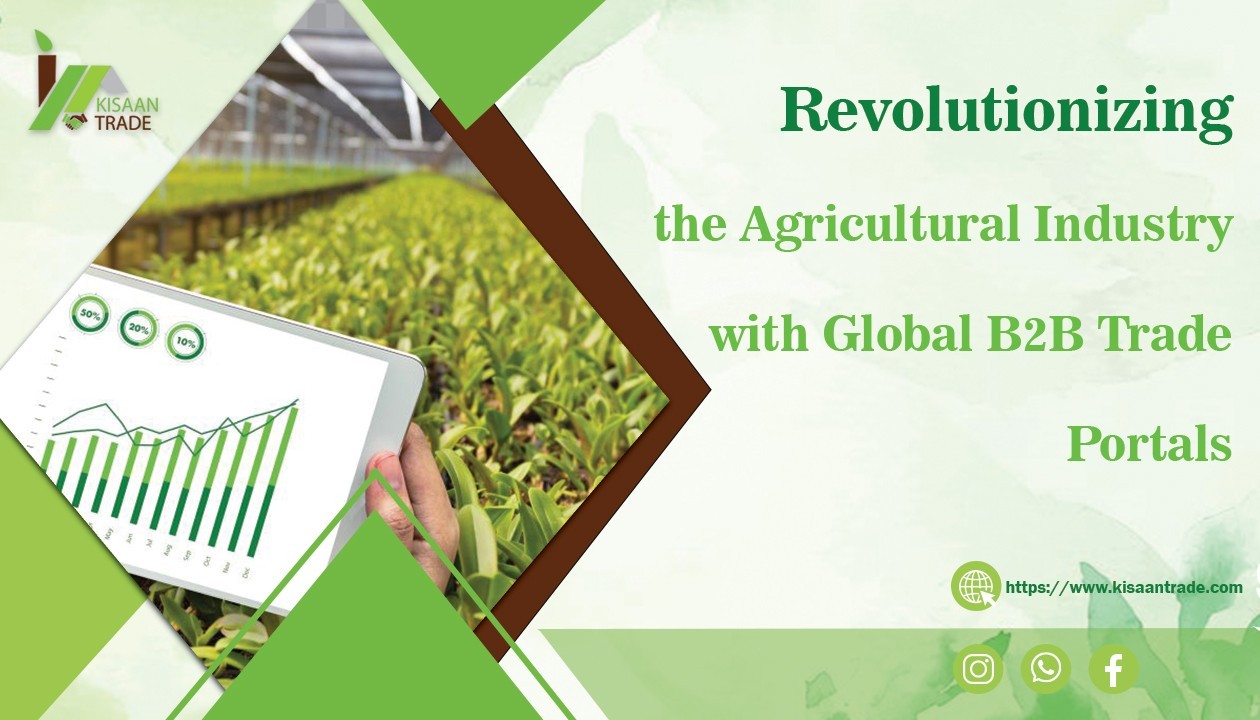 Indeed, a major part of the agricultural industry's revolution is being played by international B2B trade portal. These portals serve as global online markets that bring together buyers and sellers. Farmers, distributors, and traders can showcase their goods on these convenient platforms, discover new markets, and grow their businesses.

These portals provide a transparent and secure platform for international trade, which is one of their most important advantages. They assist in reducing the risks associated with international trade by giving access to trusted suppliers and buyers. In order to ensure seamless and trouble-free transactions, they also provide additional tools and services like product verification, escrow services, and logistics support.
Additionally, by bridging the gap between small and medium-sized farmers and international markets, these portals give farmers from developing nations an equal opportunity to compete with established market leaders and help revolutionise the agricultural industry with global B2B trade portals.
The most recent modifications made to the agricultural sector as a result of B2B portals
1) A B2B model helps with logistics for grains
Grain logistics in the agricultural sector can be facilitated by a B2B (business-to-business) model. In fact, a number of B2B platforms have developed recently that focus on bringing together grain buyers and sellers and offer a variety of services that can help simplify the logistics process.
The following are some ways a B2B model can help with grain logistics:
a) Streamlined procurement: B2B platforms can aid in streamlining the procurement process by giving buyers a central location to look for and buy grain from a variety of sellers. Finding the ideal suppliers and negotiating contracts may take less time and effort as a result.
b) Management of logistics: A lot of B2B platforms provide logistics services that can help guarantee the efficient and smooth transportation of grain from the seller to the buyer. This covers products and services like tracking and tracing, real-time inventory level monitoring, and delivery schedule coordination.
c) Quality assurance: By providing access to services for quality control and certification, B2B platforms can help ensure the quality of the grain being traded. This can lessen the possibility of quality-related disputes and increase buyer and seller trust.
d) Digital payments: B2B platforms frequently provide solutions for digital payments that can help streamline and accelerate the payment process. For both buyers and sellers, this can help lower the possibility of payment disputes and improve cash flow.
e) Analytics data: To assist buyers and sellers in making more knowledgeable decisions about their grain logistics operations, B2B platforms can offer useful data and analytics insights. This includes data on pricing, supply and demand dynamics, and market trends.
2) Crops can be sold to buyers directly
Farmers may be able to sell their crops to buyers directly through B2B portals. These online marketplaces link farmers with prospective customers from all over the world and offer a number of services to speed up the transaction process.
a) Gaining access to a larger market: Farmers may have access to a larger market of potential domestic and international buyers thanks to B2B portals. Farmers who do this may be able to diversify their customer base and find buyers who are willing to pay higher prices for their crops.
b) Improved pricing: Farmers can avoid middlemen and brokers, who frequently take a cut of the sale price, by selling crops directly to buyers through a B2B portal. This can help farmers realise better prices for their crops and improve their profitability.
c) Convenience: Farmers can sell their crops on a convenient platform through B2B portals. On the portal, farmers can post details about their crops, including their quantity and quality, and interested buyers can get in touch with them. Farmers may be able to avoid wasting time and resources on marketing and sales by doing this instead.
d) Transparency: Greater transparency in the transaction process can be provided by B2B portals, which can aid in fostering trust between buyers and sellers. Farmers are able to provide specific details about their crops, including their origin, cultivation methods, and quality requirements. This can facilitate more successful transactions by assisting customers in making more informed purchasing decisions.
3) Agricultural Supply Chain Management thanks to B2B portals
a) Transparency: By providing real-time data on market demand, pricing, and logistics, B2B portals can aid in increasing transparency throughout the supply chain. This can assist farmers in making more informed decisions about the crops they should grow, the best time to harvest them, and how much to charge for them.
b) Traceability: By providing details about the place of origin, the standard of the product, and its safety, B2B portals can help to enhance traceability in the supply chain. This can lower the possibility of food fraud and increase food safety.
c) Collaboration: Through the use of B2B portals, farmers, suppliers, and buyers can work together to increase the effectiveness of the supply chain. For instance, farmers and suppliers can collaborate to make sure that farmers have the right inputs at the right time, and buyers and farmers can collaborate to plan orders more efficiently.
d) Logistics: By giving farmers real-time information on available transport and storage options, B2B portals can assist farmers in managing logistics more successfully. This can aid in minimising waste and ensuring prompt and economical product delivery to customers.
e) Payments: B2B portals can also help buyers and farmers make payments, improving the process' efficiency and security. This may aid in lowering the likelihood of fraud.
4) Agriculture Knowledge Exchange via B2B Portals
a) Discussion Forums: B2B portals may offer discussion forums where farmers, professionals, and other interested parties can exchange ideas, pose questions, and debate best practises. These forums can be a great way for farmers to share knowledge and stay informed about the most recent changes in the sector.
b) Educational resources: B2B portals can offer training and educational resources to farmers in order to help them advance their knowledge and abilities. For instance, they could offer workshops, webinars, and online courses on subjects like crop management, irrigation, and pest control.
c) Research and Development: B2B portals can also give users access to information about research and development, such as reports, studies, and data analytics. These tools can aid farmers in making well-informed decisions about their businesses and implementing cutting-edge techniques.
d) News and Updates: B2B portals can offer information on the most recent advancements in the agricultural sector, including market trends, governmental regulations, and industry-related events. This can assist farmers in staying informed and deciding how to best run their businesses.
e) Networking: B2B portals can help farmers, suppliers, buyers, and other agricultural industry participants connect. Farmers may benefit from this by forming new connections, discovering new business opportunities, and working together on projects.
Regarding Kisaan Trade
Farmers can buy and sell agricultural goods and services on Kisaan Trade, an online marketplace. It is an online marketplace created to support agricultural trade and business in India.
Farmers can advertise their goods and services, such as crops, livestock, and farm machinery, to prospective buyers and sellers using the Kisaan Trade platform. Additionally, it gives farmers access to data on pricing, logistics, and market trends, which can assist them in making decisions about their business operations.
The Kisaan Trade platform allows buyers and sellers to negotiate deals and transactions as well as handle the logistics of product delivery and payment. Additionally, the platform offers a secure payment gateway for transactions, which can assist in lowering the risk.