Back
Maximising Profits and Efficiency with a Global Agriculture B2B Trade Marketplace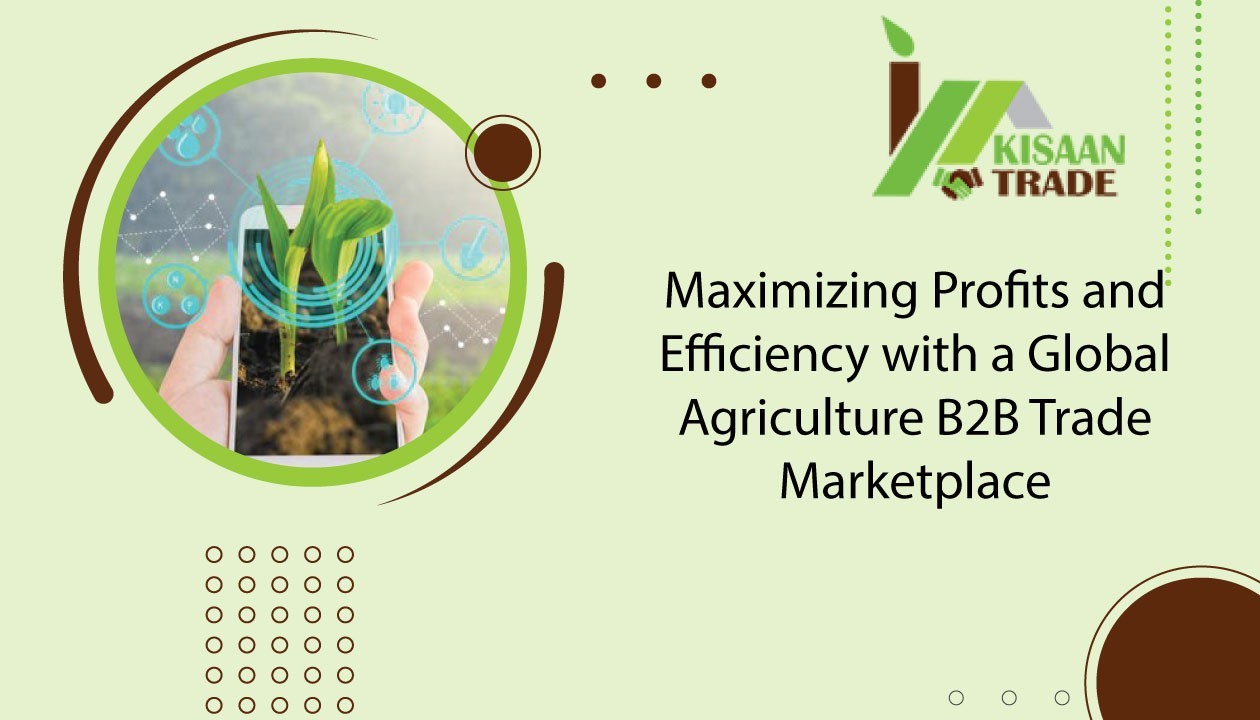 Businesses all over the world face new opportunities and challenges thanks to the Internet. New business relationships and new markets, businesses, and marketing paradigms have been made possible by e-commerce (EC). E-commerce, taken broadly, refers to all business dealings involving information technology. It includes everything that makes it possible for us to collect, produce, store, analyse, distribute, or otherwise use information electronically.
Agriculture e-commerce
Agriculture and online shopping Agriculture e-commerce refers to the type of trading model in which the purchasing and selling of agricultural goods and services is done electronically using computer systems connected by inter-network protocols and standards. The various parties involved in electronic business transactions consent to abide by the standards, guidelines, and legislation governing the sector [9]. Agricultural goods are less standard than manufactured goods. Standard grades make it easier to describe products, but location and timing also have an impact on a commodity's price. For instance, it takes very complex databases and search engines to digitize all the information about a common commodity product like No. 2 yellow corn (location, time, price, quality, quantity, etc.).
The Significance of B2B Online Markets
B2B online marketplaces produce self-service, digitally-sourced environments where numerous providers can offer goods or services to business customers. Similar to B2C websites, B2B marketplaces assert that by streamlining and making transactions transparent, they make it easier to find the ideal supplier.
Without the burden of marketing or the requirement for particular sales, fulfillment, transactional, or logistical functions, buyers gain choice, value, and greater efficiency, while sellers gain access to a larger pool of buyers under pressure to increase their income (depending on the specific market). Market procurement can also facilitate reporting and data analysis when implemented correctly.
Benefits of e-commerce adoption in agriculture
Benefits of e-commerce adoption in agriculture Since prices and stock levels are all available in a public setting, e-commerce can increase transparency in the purchasing process. Due to the ability to operate around the clock, trading time restrictions in the context of international trade are no longer an issue. These are a few of the potential advantages:
1) Saving money on transactions
The Internet may reduce transaction costs by lowering trading and/or transfer costs when the following scenarios occur: it facilitates information search, lowers the costs of adjusting posted prices, facilitates negotiations between geographically separate buyers and sellers, and allows fulfillment to be more easily monitored. Geographic distance is also unimportant in search and negotiation because Internet communication costs are largely independent of data volume and the distance between sender and receiver. The most significant impact of the Internet on trading costs is when data is digitized, such as when selling cattle or fresh produce through digital video rather than physical display.
2) Increasing the transparency of price and product information
Digital marketplaces have a significant impact on competition and play a significant role in increasing the transparency of price and product information. By comparing a larger and more effective pool of potential partners, transactions can be made at a lower marginal cost thanks to digital technologies [14]. Operating in a digital marketplace allows businesses to access a wider range of business opportunities. Engaging with a large number of potential competitors lowers transaction costs and enables businesses to grow. Agriculture in China is still primarily managed and produced by families. Although it encourages production, a small, dispersed management style is not advantageous for the growth of production socialization.
3) Increasing market potential
In order to provide services that can reduce procurement costs, intermediaries typically have to develop a complex, multifaceted partnership with various logistic operators because, in digital marketplaces, companies essentially exchange information flows. The cost savings obtained from outsourcing the majority of supply chain activities are the primary cause of B2B's explosive growth. According to Goldman Sachs' estimates, B2B solutions help businesses cut the cost per unit of a single procurement process by 10% to 25%. Additionally, order processing tasks take up a lot more time than searching for new solutions. B2B services enable businesses to simplify the procurement process and allocate human resources to tasks with higher added value.
Differentiation Based on Business Types
1) B2B vertical marketplaces
Here, only one market segment has the ability to purchase and sell goods. Such B2B markets only allow trade between particular divisions of a given industry.
Automobiles, medications, substances, electronics, construction, etc. So that these markets can connect you to all businesses that can provide products and services related to construction, let's say you are a construction company.
2) B2B horizontal marketplaces
As opposed to vertical marketplaces, horizontal B2B marketplaces offer goods and services from various sectors and industries. They link businesses from various industries.
Say, for illustration, that your business is in the construction sector. These markets may enable you to connect with businesses that can provide bulk furniture for your new office fittings, in addition to building supplies and services.
What is the next evolutionary step in the agribusiness markets?
It is without a doubt that marketplaces will continue to grow in dominance as a business model in various stages within the value chain of the agriculture industry.
What subsequent trends will affect this marketplace platform technology, then? We anticipate increased focus, investments, and deployments in at least four areas:
1. B2B user expectations are shaped by B2C expectations
Being one of the slower market sectors to adopt B2B marketplaces has many benefits. At least 80% of B2B customers want and anticipate a similar shopping experience to that of a B2C client. Given that many B2B buyers interact with B2C marketplaces in their daily personal lives, we can anticipate that as time goes on, B2B customers will demand user experiences that are more similar to those of B2C.
Omnichannel communication and a personalised experience to deliver a convenient and seamless purchasing process seem to be gradually evolving into a crucial differentiator to attract new clients and promote client loyalty.
2. Growing use of blockchain in agriculture
The importance of blockchain in agriculture is expected to increase as concerns about food quality spread across the globe. Imagine the route our food takes after it leaves the farm, as it involves numerous interactions and steps before it reaches the dinner table. We will be able to achieve provenance and traceability from the food's source to its final destination using blockchain technology and a single source of truth. This gives all buyers the ability to increase supply chain transparency and boost consumer confidence in the food they buy.
Examples of blockchain-enabled agribusiness platforms include Foodshed and Agrimp. Foodshed connects regional independent and sustainable producers to local restaurants, grocery stores, and wholesale markets via its mobile marketing and logistics app to increase supply chain transparency and decrease inefficiencies. Agrimp is a cloud-based B2B digital marketplace for the trade of food crops that also offers supplementary services like logistics, quality control, safe payment processing, and legal assistance.
3. Increasing the availability of ecosystem-complementary goods and services in agribusiness markets
Most modern agribusiness marketplaces got their start by being fairly specialized in their value propositions to deal with particular problems in the food chain. They cannot rely on being a niche player as they scale. When partners offer complementary goods and services to various users in the agribusiness market, ecosystem partnerships become a crucial competitive advantage.
A successful marketplace's sizable captive user base presents enormous opportunities for monetization with little need for advertising expenditures. Marketing services, microfinance, farmer insurance and financing, food quality assurance and validation services, warehousing and logistics services, or equipment warranty and maintenance services are a few examples of these complementary services.
4. Continued online marketplace investment with planned consolidation
Compared to other industry sectors (such as retail, consumer goods, and industrial), which have been impacted and reshaped by marketplace technology advancements, the development of agribusiness marketplaces is still in its infancy. As they address technology and supply chain inefficiencies along the food chain, we will witness a greater number of new startups being founded and investment funding being poured into promising startups.
As larger traditional agriculture organisations show an increased interest in these online agribusiness marketplaces and use acquisitions to gain faster market entry rather than building their own internal digital platforms, future acquisitions are also likely to happen.
Making the Most of Efficiency and Profit with the B2B Trade Marketplace
A global B2B trade marketplace for agriculture can be a useful tool for boosting revenue and productivity in the sector. Such a platform can give buyers and sellers a central location to conduct business and exchange information, enabling more efficient transactions and lowering costs.
A global agriculture B2B trade marketplace can aid in maximising profits and effectiveness in the following ways:
Enhanced Market Access: By establishing a global market, agricultural producers can increase demand for their products and possibly increase profits by extending their customer base beyond their immediate area.
Reduced Transaction Costs: A centralized platform can cut down on the time and money needed to find customers, negotiate deals, handle payments, and organize shipping logistics.
Enhanced Information Sharing: Buyers and sellers can communicate in real-time about the quality, cost, and availability of products, which can result in better pricing and more informed decisions.
Improved Supply Chain Efficiency: Better coordination and communication between suppliers and customers can lead to more effective and efficient supply chain management, which benefits from a global marketplace.
Access to New Technologies: Using the platform, agricultural producers can gain access to cutting-edge innovations and new technologies that will help them optimise their processes and boost their profits.
Kisaan Trade
An online B2B marketplace in India called Kisaan Trade links farmers with traders and consumers of agricultural goods. By removing middlemen and giving farmers better prices for their crops, the platform enables them to sell their produce directly to consumers across the nation. Fruits, vegetables, grains, pulses, spices, and oilseeds are just a few of the agricultural products we offer. Farmers can use the platform to manage their inventory, pricing, and shipping logistics, while buyers can browse listings and place orders directly with farmers.
Kisaan Trade is a part of a growing movement in India known as "digital agriculture," which uses data and technology to increase the productivity and efficiency of the agricultural sector. The way that agricultural products are traded in India is changing thanks to Kisaan Trade, which links farmers with buyers and gives them access to new tools and resources.
How does Kisaan Trade assist in B2B transactions?
Bringing Farmers and Buyers Together: With the help of Kisaan Trade, farmers can cut out middlemen and transaction costs by selling their agricultural products directly to buyers and traders. This results in a B2B trading process that is more streamlined and effective, which is advantageous to both buyers and farmers.
Digitalizing the Agriculture Industry: Digital agriculture is a growing trend in India that uses technology to increase the productivity and efficiency of the agriculture sector. Kisaan Trade is one example of this trend. Kisaan Trade is assisting in the digitization of trade and the streamlining of business operations for farmers and buyers by offering an online B2B marketplace.
Increasing Price Transparency: Farmers can better understand market trends and set prices by using Kisaan Trade's real-time price information for agricultural products. This increases price transparency in business-to-business transactions, lessens the possibility of market manipulation, and guarantees fair prices for farmers.
Providing Access to Finance: Kisaan Trade offers financing options for farmers, enabling them to access working capital and make investments in their businesses. Farmers' ability to engage in B2B trading may be enhanced, and their financial stability may increase as a result.
You may contact us in case of any further information or query.