Back
How should we register for an account on Kisaan Trade?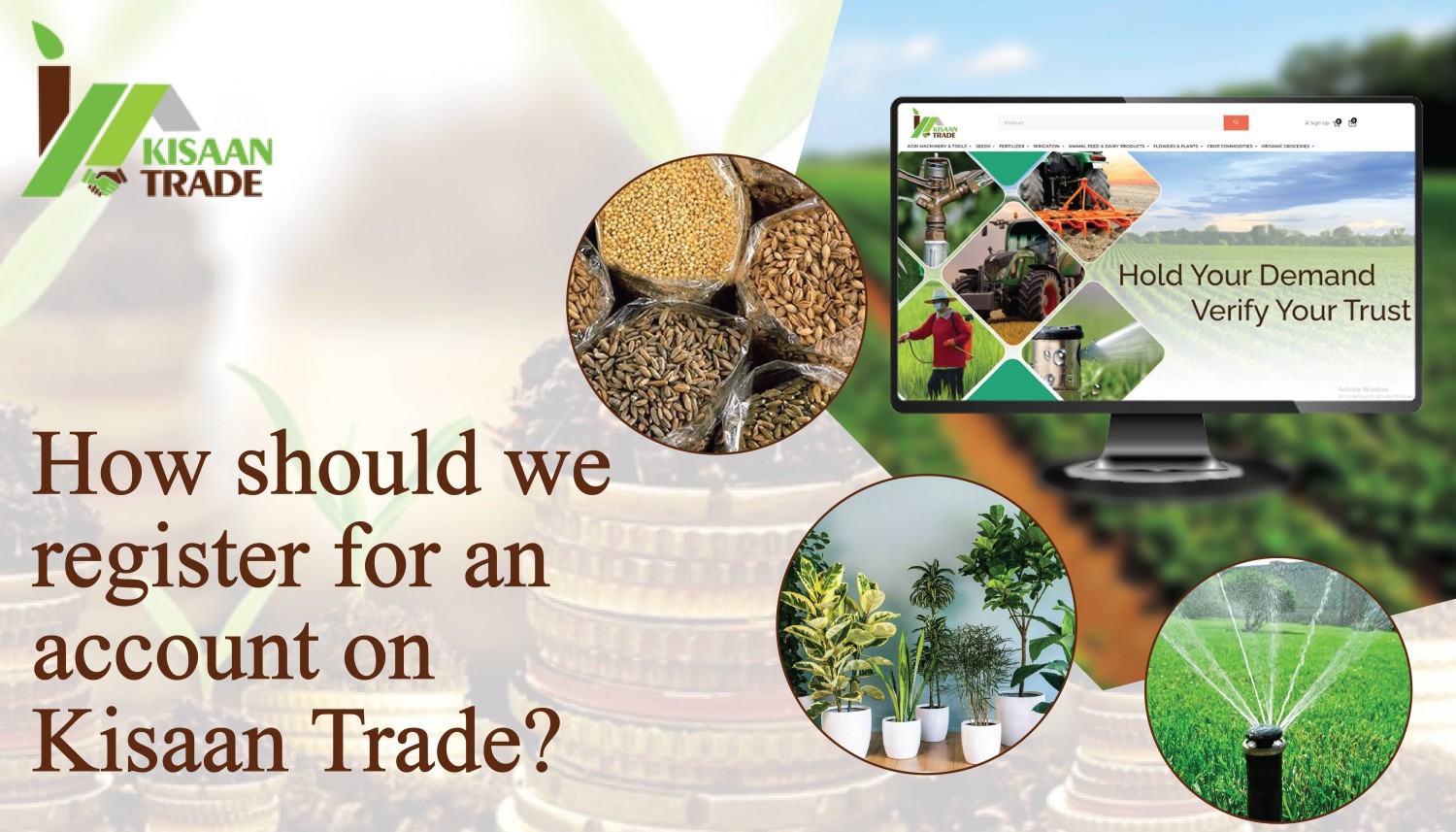 On the B2B agricultural e-commerce marketplace Kisaan Trade in India, consumers can buy agri-machinery, tools, and other agricultural inputs that are widely used in Indian farming culture.

Kisaan Trade consistently works hard to provide satisfaction to our customers. India is an agricultural country, and a sizable portion of its population depends on farming and agricultural industries. Kisaan Trade is an excellent resource for learning about Indian agricultural commercials. We expanded into the agribusiness market with the help of our technical team, which always vowed to advance our goals and bring our customers the greatest benefits.
Describe e-commerce
Ecommerce is the electronic online buying and selling of products. It is well-liked due to the numerous advantages of doing business online, including mobile commerce, electronic funds transfers, and internet marketing.
• Online retail sales that are made to customers directly through websites, mobile apps, chatbots, and even voice assistants
• Sellers participating in online marketplaces, which frequently host sales by third parties,
Benefits of selling on the Kisaan Trade platform include:
1. A quicker buying processes
Customers can shop more quickly and easily for what they want. They can quickly look through a variety of items at once and purchase what they like. Customers can shop online for items that are unavailable locally or are only available in distant physical stores.
2. Anywhere can be used for business operations
Any geographic limitations you would typically encounter with an office-based business are lessened by e-commerce websites. You can manage your e-commerce company successfully from anywhere in the world. Having access to emails, the Internet, and phones is necessary for managing your e-commerce website from any location.
3. Cost-cutting
Cost reduction is one of the main benefits of e-commerce for businesses, which keeps sellers interested in online selling. Many vendors spend a lot on upkeep for their physical store. They might have to make additional upfront payments for things like rent, repairs, store design, inventory, etc. In many cases, sellers don't get the desired profits and ROI even after investing in services, stock, maintenance, and labour.
4. Cost-effective marketing and advertising
Promoting a seller's goods doesn't have to cost a lot of money. There are several quick and inexpensive ways to market online in the world of e-commerce. Ecommerce marketplaces are visual platforms where sellers can effectively display their goods. Amazon sellers, for instance, can use advertising tools to include videos, infographics, and high-quality images.
5. Offering clients flexibility
The ability of sellers to offer customers flexibility is a significant benefit of e-commerce for businesses. One advantage is that the goods and services are available around the clock. As a result, the seller is able to offer his product whenever and wherever.
Customers are constantly present on e-commerce sites, and due to the conveniences they enjoy, they are likely to make additional purchases there. Free shipping (usually based on a minimum cart value), express order delivery, deals and discounts, and subscription benefits are a few of these conveniences.
6. Comparison of products and prices
E-commerce vendors can compare the products independently or with the aid of tools. In the event that a product need is not met, this gives them a good idea of the alternative products and standard prices that are offered.
Online comparisons are quicker and cover more products; this saves time because the shopping site has all the information you need. Sellers in a physical store might not have access to as many details there; instead, they only have a better understanding of their own inventory.
7. No restrictions on reach
A physical store may limit the number of customers a seller can reach. Although there may be distance restrictions, they can deliver to customers' homes. Many online marketplaces for commerce have their own delivery and logistics networks.
Expanding one's customer base is advantageous for sellers who want to increase their clientele. This holds true for both physical store owners and online-only merchants.
8. Quicker reaction to consumer and market demands
When you start selling online, every interaction is quicker. Ecommerce marketplaces give you access to a streamlined delivery or logistics system. This indicates that the buyer's order was efficiently delivered. Another benefit that can be quickly handled is the management of product returns; you can either issue a refund or a replacement.
Even in response to market demands, swift actions can be taken. Consider the following e-commerce illustration: If a customer notices that an item is out of stock, he can select the "Notify Me" option. This notifies him when the item will be back on sale. Additionally, it alerts vendors that they must restock that product in order to attract more customers.
9. Various payment options
Customers enjoy customization, and they also enjoy paying for their orders. Ecommerce marketplaces accept a variety of payment methods, including UPI, pay later credit, cash on delivery, card on delivery, net banking, and EMIs on credit or debit cards.
Cart recovery is a key advantage of online shopping. Sometimes a customer proceeds to the checkout page without completing the transaction. Here, you can call or email customers to remind them to complete their purchases.
10. Makes exporting simple
E-commerce exports help merchants reach beyond national borders and grow internationally by enabling them to sell directly to customers in other countries on international marketplaces. With e-commerce, vendors can reach customers without spending money on a physical setup. Instead, they can easily attract new customers internationally by using attractive product listings. E-commerce exports can be a very profitable business model to adapt for international growth and increased revenue for budding entrepreneurs and expanding companies.
What makes Kisaan Trade so appealing?
There is no denying that the possibility of selling online on Kisaan Trade has assisted several businesses in increasing their earnings and achieving successful growth. Like any other business strategy, e-commerce has many advantages that can help one succeed.
The following are some of the things we guarantee:
1) Daily Leads: Attracting and converting target audiences who have expressed interest in your product or service constitutes lead generation. The objective is to lead prospects all the way down the sales funnel, through the buyer's journey. Customers can find you and your products on our website, which is open around the clock.
2) Product Marketing: Positioning the product in the market is one of the most crucial aspects of your job. Consider this process as a form of storytelling: in order to establish your product's positioning, you must write and present its narrative. Each product would be displayed by Kisaan Trade to receive proper exposure and capture the interest of potential customers.
3) Promotion: Promoting a website isn't particularly challenging, but it's also not very easy either. Given that you must rank in various search engines, we could say that website promotion is a complicated activity that generates a lot of unpredictably variable factors. With us, you won't need to worry about promotion because we'll take care of it properly to help your company grow.
Steps to take for registration:
• Step 1: Shop Name
You need to put your fully thought-out shop name in this section.
• Step 2: Company Name
State the name of your legally established company.
• Step 3: Name of the Contact Person
Enter the full name of the person whose primary responsibility it would be to manage the business.
• Step 4: Email of the Contact Person
You must enter your current email address if you want to receive all the updates and important information.
• Step 5: Contact Person's Mobile Phone Number
Enter the number that would be available for business use, and if it's possible, give the company a specific number.
• Step 6: Trading Style
Choose the trading type you want to use on our platform.
• Step 7: Country
Enter the name of the county in which you currently reside.
• Step 8: State
Enter your home state for more information and comprehension.
After you have completed your basic information, we will proceed to fill out "Shop Settings".
• Step 1: Shop Name
For purposes of verification, enter your shop's name once more.
• Step 2: Company Name
Enter your company's name again, for verification purposes.
• Step 3: Shop Logo
Upload the file containing your shop's logo.
• Step 4: Category
Choose the category in which you want to sell.
Banner setting
You must display your banner and promotional banner in this area. The banner should be 1500 by 450 pixels or smaller, and the promo banner should be the same size or smaller.
Social Media Links
Building brand awareness, advertising to specific user segments, selling products, enhancing and extending customer support, and engaging in dialogue and community building are all functions of social media in e-commerce.
Using social media for e-commerce has many benefits, such as expanding your marketing into new channels, building an engaged audience, reaching your target market with useful content and promotions, interacting with customers and prospects, and generating new sales.
You can include links to your pages on Facebook, Instagram, Twitter, LinkedIn, Google, and YouTube so that your customers can learn more about your goods and services.
Start-up Profile
Your tagline, logo, and trading type must be entered here.
Tagline - A tagline is a succinct statement that conveys the values of a company. To leave a lasting impression on customers, businesses use taglines in marketing campaigns. Without mentioning the goods or services they provide, taglines provide consumers with information about the company as a whole.
Logos - Through a simple visual representation that is easy to understand and recognise, logos serve to represent a specific organisation or company. In most cases, a logo consists of symbols, stylized text, or both.
Next, enter the URL for your company, followed by the focus area, founding year, and problem statement. Once you have completed filling out all the information, a tab will open in the following section where you can view all of your customers and their orders, along with their contact information.
Bottom Line
Selling products online has a number of benefits over selling products offline, and we want to give you the chance to learn about these benefits and start selling on Kisaan Trade. You could market a wide range of goods, from seeds to irrigation equipment. This plan is designed to help farmers gain access to technology and improve their quality of life. Let's work together to bring about this positive change, and if you have any questions, please get in touch with us.